Various Add-on Packs have the ability to change the "layout" of that particular function, whether it be to the map, the results, the search form, or the style, additional controls as to how you want your particular area of the map to be laid out will be done via the Layout section of the various add-on packs. The view tab will show you what settings you currently have and provides you the CSS box to further modify your SLP plug-in.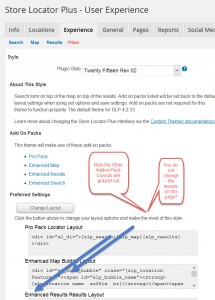 Available In: Pro Pack 4.0+
Search Layout is found under the User Experience tab on the View panel when you have Pro Pack installed.
What Is It?
This setting allows the overall layout of the Store Locator Plus primary interface elements (search form, map, results section) to be re-arranged without editing code.  If the Locator Layout field is left blank the default layout is used.  This is the high level positioning of the Store Locator Plus elements.   Detailed changes to the layout of each individual "block" of output is handled by the respective add-on packs as noted below.
You can use standard HTML elements in combination with the Pro Pack specific Locator Layout shortcodes listed below.
Locator Layout Shortcodes
These shortcodes only apply to the Locator Layout admin setting.
div#map_sidebar
div.results_entry span.location_name {
color: green;
display: block;
font-weight: bold;
font-size:90%;
}
div#map_sidebar
div.results entry span.result_website{
color:blue
}
Default
The default Locator Layout is:

<div id="sl_div">[[slp_search]][[slp_map]][[slp_results]]</div>

(Note, the actual brackets would be shown as single on your sheet, they are shown as double[[_]] to show as text and to not change the documentation page)