Enhanced Results adds functionality to how your results appear on your Store Locator Plus map or locations page. The functionality is now part of the Experience 4.4 add-on.
Experience add-on includes these Enhanced Results Features and labels
Disable Initial Directory
When this box is checked the results do not display the listings under the map when show locations at startup is checked.
Use telephone URi
When checked, wraps the phone number in the results in a tel: href tag.
Hide Distance
When checked: Does not show the distance to the location in the results table.
Show Country
When checked: Display the country in the results table address.
Show Hours
When checked: Display the hours in the results table under the "Directions" link.
Order Results By
Included with
Enhanced Results (LEGACY)
Experience add-on 
With the add-ons you can change the Default order of results  that is part of the base plugin (distance with closest to the searched address  appearing first.)
Experience add-on  includes the newer version of  Enhanced Results
The following options for sorting results:
Closest – list the closest to the search address or center of the map.
A..Z – alphabetical sort of locations.
Random – random order of locations, changes on each search.
Featured, Rank, Closest
Featured, Rank, A..Z
Featured, Closest
Featured, A..Z
Rank, Closest
Rank, A..Z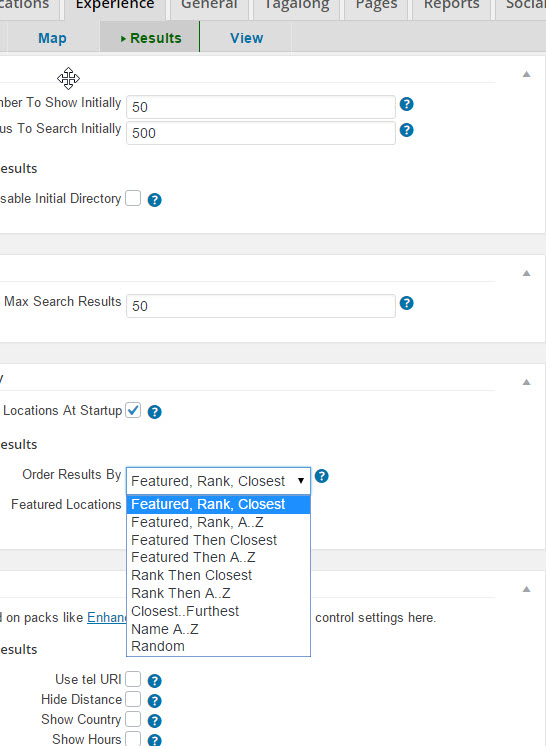 Functionality with Enhanced results (LEGACY): Featured Locations
Drop Down selection choices to set if the featured location should be shown or only if in radius:
Show if in radiius
Always show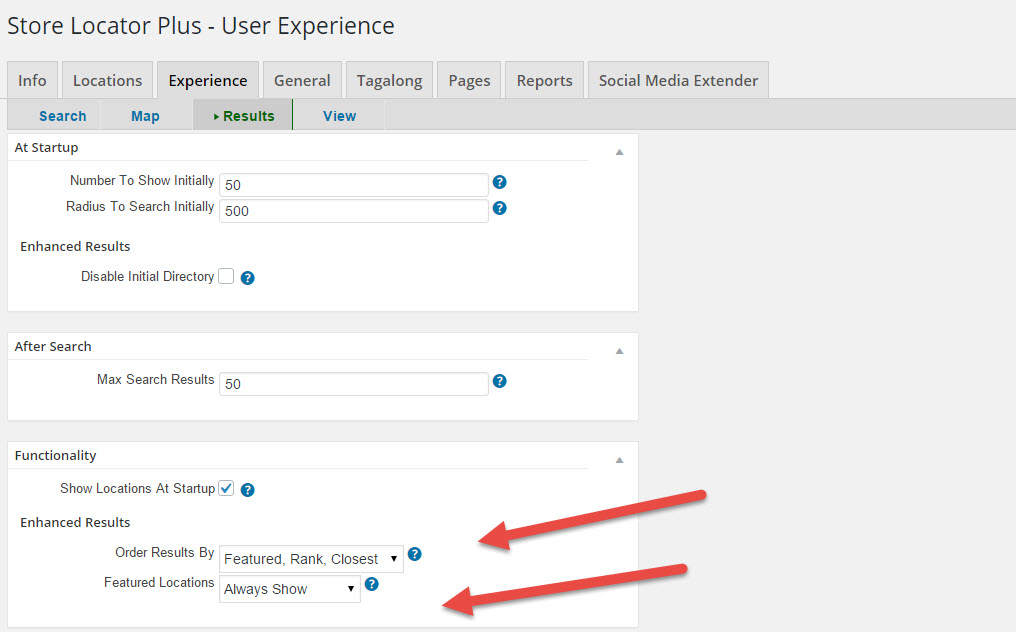 With Enhanced results (legacy) or Experience Add-on you will see the Results Layout section that can be manipulated and saved to fine tune how your results layout appears. The SLP style under View will display the Layouts being used dependent on the style selected. With Premier, Experience you can add or change these elements to display the way you want them to, (or select a style that will suit your needs)