Download The Plugin
The Store Locator Plus main plugin is free from the WordPress Plugin Directory.  You get a lot of cool features for free.    We hope you like it enough to support future development by purchasing one of our premium add-on packages.  You can get the Store Locator Plus plugin here:
http://wordpress.org/extend/plugins/store-locator-le/
or login to your website and go to the WordPress admin panel, click on plugins, add, type "Store Locator Plus" in the search box, install, activate. You will Need a Google API key if this is a new domain.
Add A Locations Map on a new WP Page

A shortcode is a simple coded block used by WordPress to put plugin content on a page. Add the shortcode on the page where you want your map to appear. Hint: Do not copy and paste off this page, actually type it in using the blocked parentheses with the letters SLPUS, it will look like this: [[SLPLUS]] , for more info about Shortcodes:SLPLUS / onto the newly created page where you would like the map locations to appear and you are on your way.
Add Locations
Click on Store Locator Plus in the sidebar, click on the Locations Tab, select "Add".
You should now be able to view  your website and go to the Locations page.   Search for an address near any locations that exist and you should see the location list.
Adjusting Settings
From the WordPress Admin Panel you can adjust how the map looks and works via the User Experience tab.
Some things you may want to look at are the Map / Center Map At setting to change where the map is centered.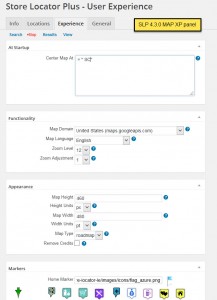 Additional information on Map settings
Under the Experience/View Tab in the admin bar select from the drop-down menu a Store Locator Plus style. This setting will allow you to change the look-and-feel of the map interface to work with your WP theme or to your preference.  These are the Store Locator Plus (SLP) styles.  Some SLP styles will work better with your WordPress Theme than others.   Many SLP plug-in styles have extended features that further add to the look-and-feel of the plugin when combined with add-on packs or Premier subscription. Many of the newer SLP styles are designed to work with the premier or experience add-ons and have a one-click option to reconfigure the layouts.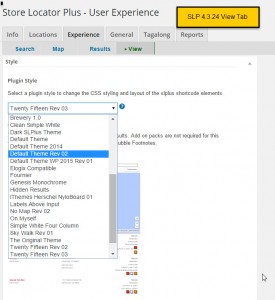 SLP Add-On Packs and Premier Subscription
There are many SLP add-on packs available for purchase , and although they are not required to use the plugin they can greatly enhance the user experience and provide additional control settings for the administrator, web guru, or tech team.