Directory Builder is a premium add-on pack for Store Locator Plus.   It is used to build location lists based on specific location properties such as a list of cities for your locations.
Landing Page Mode
Using style="landing_page" will generate a directory-style page that shows your location details for every location that is within the specified city.   Landing Page Mode is used as the "landing page" for a List Mode list of locations.
General Layout
The general layout of the Landing Page listings is based on the Results Layout that is set for the base plugin.  If you have Enhanced Results you can modify the results layout for the standard locator interface.  Those changes also impact the default Directory Builder results.
CSS Styling
The landing page output is wrapped inside a DIV with a class="slp_directory landing_page by_<field_shorthand>" attribute.  This provides the tools necessary to do landing-page specific CSS styling.
Page Titles
The page title of a landing page can be set to a dynamic title that reflects the incoming listing request, such as the city name.   Use the [[slp_directory style="title"]] shortcode attribute in the page title to display the current search criteria.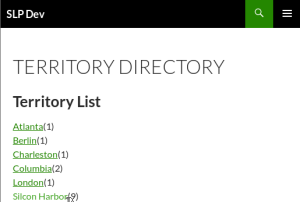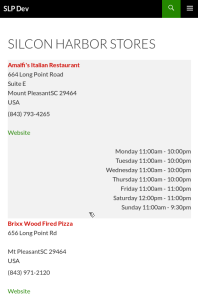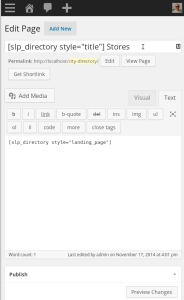 Examples
Creating A City List and Map
On the "/directory/" page:
[[slp_directory by="city" style="list_with_count" locator_page="/locations/"]]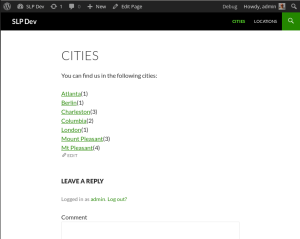 On the "/locations/" page is your typical Store Locator Plus search:
[[slplus]]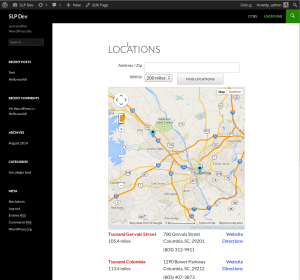 Creating A Directory
On the "/directory/" page:
[[slp_directory by="city"  style="list_with_count" landing_page="/city_directory/"]]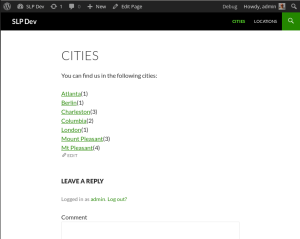 On the "/city_directory/" page:
[[slp_directory style="landing_page"]]