The Store Categories panel is where you can establish and manage the settings that determine the categories you want to add in the form section of the Tagalong Add-on user interface.
Tagalong 4.4 (or below) as a stand alone add-on will not have the same screenshots and updates as Categories in the Power 4.5 add-on nor will it have the additional features currently included in the Premier subscription add-on
Manage
The Category Manager section provides a full management interface for Store Categories. Also allows for Bulk Import of Categories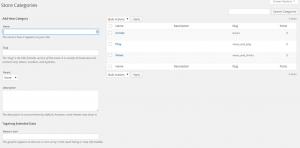 List
The category list is based on the custom stores taxonomy setup by Store Locator Plus. It is the same taxonomy used by the Store Pages add-on. The links will show a list of stores in that category if Store Pages, a separate add-on pack, is installed.