With guests in town until next week progress is slow.  I will be working on Tagalong updates to make it SLP 3.9 compatible and then back to MoneyPress.   When updates are ready they will be published through the normal channels along with a post at my blog (which broadcasts here as well).
For Tagalong I am pushing to get some reported issues resolved, eliminate the need for Store Pages, and hopefully get this to a fully supported launch versus beta.
MoneyPress is a complete re-write that is taking a long time but it will better serve people interested in the affiliate program plugin.   The new version is completely object oriented, is using a refined plugin framework (which will help Store Locator Plus as well), and will be fully extensible via a new series of hooks and filters making personal modification for the hackers out there far easier as well as making it easier for me to add premium add-ons.
CSA has started listing the blog in various blog tracking sites like Technorati.  Do you have a favorite blog aggregate site?  Let me know, comment on this article!
###
Current Alexa Rank: 259,852 / 86796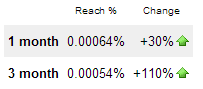 Current Technorati Rank: 30186