Enhanced Search 4.2.08 was released with a new form title option.  Before we get to that we need to mention a patch that addresses an issue for users that have Enhanced Results installed.   If you have a site the sets featured locations to "always show" AND you set Enhanced Search to "ignore radius unless address is used" the location search results were either missing completely or partial lists.    4.2.08 addresses that issue in conjunction with Store Locator Plus 4.2.39.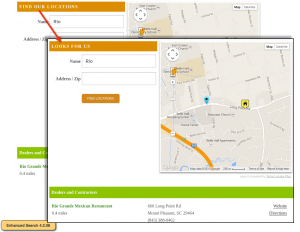 Now, for the title box feature.  Enhanced Search 4.2.08 has a new "search title box" label that is set.   You may be wondering where and how that text box is rendered.    That particular label is only rendered on some plugin themes, such as the iThemes Herschel NyloBoard theme recently released.   The label text appears in a search box above the search form.   This "magic" is done using the Pro Pack locator layout by using the new [[slp_option nojs="search_box_title"]] shortcode.    The new shortcode allows a site builder to reference any stored option value including the label text.   A nice feature of this new setting is the text can be manipulated on multilingual sites with plugins like WPML or any plugin that reads and manipulates database-stored text strings.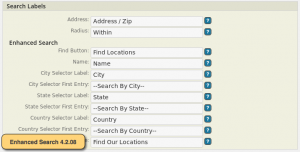 What else is new in Enhanced Search 4.2.08?   Language support for internationalization (i18n) and localization (l10n) has been improved for settings like the city, state, and country label selectors.   The plugin now uses the standard state selector and builder code for creating drop down menus.   The AJAX handler has been updated to use the built-in Store Locator Plus 4.2 add-on framework to reduce code overhead and complexity.
Change Log