Store Locator Plus, one of the most popular location management services for WordPress, has a new add-on pack that extends the functionality of the base plugin. Social Media Extender, created by DeBaat, brings social media icons and links to your locations. Add Twitter, Facebook, or any other social media site to your location listings with ease.
Social Media Extender
Social Media Extender makes it easy to add social media links to the Store Locator Plus locations.    It is a two-part system that includes a "social media manager" that allows you to add a variety of social media sites.  It starts pre-loaded with Facebook and Twitter as the two base social platforms.    The other part of the system is the location editor interface which allows location-specific URLs to be added so each location can link to its own social media page.
Social Media Extender is now available to the general public.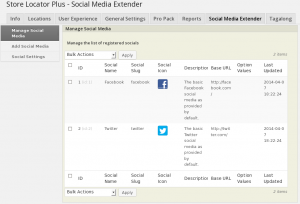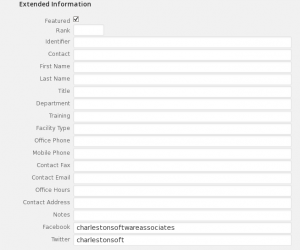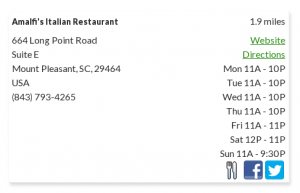 Available Now!
You can purchase this plugin NOW from the Social Media Extender product page on the Store Locator Plus website.
Premier Members have access to this new add-on pack for no additional fee.