Some cool things people do with map software.   Maybe I've become a "Map Geek" after working on Store Locator Plus for 4+ years now, but I find this sort of thing both interesting and insightful.
Here is the map of South Carolina: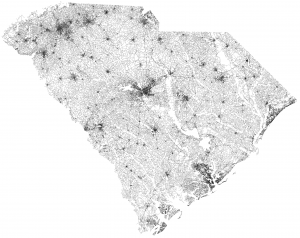 This map, featuring every road in the United States of America, assembled by Reddit user WestCoastBestCoast94, looks like a cartographer's dream come true. It doesn't take an expert to glean information from the map, like the location of major cities — dark, tight webs — and mountains — long, thin stretches of white.
Source: One giant map featuring every road in America | The Verge